Electric pump EP MINOR 40 BEER with electrical speed variator 380V
Shipping within 20 days from the receipt of payment.
We are sorry, for this order you will receive a quotation for shipping costs
Add to cart
Description
Electric pump EP MINOR 40 BEER with electrical speed variator 380V
The EP Minor 40 Beer electric pump with 380V mechanical drive is a versatile and extremely effective tool that is widely used in a wide range of sectors, from brewing to winemaking. It is a motor-driven pump capable of automatically suctioning the liquid even when dry and up to 6 metres deep, useful for transferring viscous fluids up to 50,000 cp, clear, even with bodies in suspension.
The unit is equipped with a 380V motor with a maximum absorption of 4 KW, and a flexible-blade impeller, ideal for the continuous transport of food liquids, hot up to 95°C, respecting their aroma, colour and organoleptic characteristics. The main feature of the EP Minor 40 electric pump is in fact the presence of a mechanical variator, useful for always working at the right speed.
The motor has a range of 190 to 900 rpm, for the transfer of 25 to 100 litres per minute. The transfer is continuous, without pulsations, perfect for filtering a liquid. The device can also be used for precise dosing, thanks to the reversible transfer function, which reverses the direction of transfer in the event of excess liquid.
The Beer EP Minor 40 380V electric pump with mechanical variator is made in Italy using the best materials, and is a high quality purchase recommended for all wine, beer and oil producers who need an effective support for transferring liquids.
A particular of the rotating impeller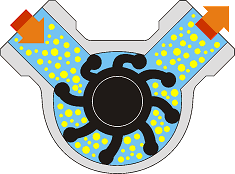 Technical description
It allows hot liquids to be decanted up to 95 °C.
Correlated Products
Similar Products