Electric pump EP MIDEX 30 BEER WITH CONVERTER
We are sorry, for this order you will receive a quotation for shipping costs
Add to cart
Description
Electric pump EP MIDEX 30 BEER WITH CONVERTER
The EP Midex 30 Beer electric pump with inverter is a coaxial model equipped with a flexible natural rubber impeller and a single-phase 220V 0.75 kW motor. The inverter allows you to control the transfer speed, which ranges from 20 l/min to 96 l/min. The EP Midex 30 Beer electric pump with inverter is therefore ideal for transporting food liquids that are hot up to 95°C, such as beer, wine, oil and fruit juices, without affecting their organoleptic properties. This model uses the centrifugal force of the impeller to suck in the liquid and guarantees a continuous flow. The pump works in both directions of rotation and is self-priming, which means that it can start pumping without needing to fill the pipes. The EP Midex 30 electric pump with inverter is made of stainless steel, making it the ideal option if you need to work outdoors, due to the high strength of this material. The device weighs 16 kg and can be easily transported manually or with the special trolley.
Technical characteristics of the EP Midex electric pump with inverter
Power: 0.75 kW
RPM: 285 min - 1400 max
Flow rate: at 285 rpm 20 lt/min (1200 lt/h) - at 1400 rpm 96 lt/min (5760lt/h)
Maximum temperature: 95°C
Weight: 16 kg
Fittings Din 25 Hose connector 30
Appliance conforms to CE safety standards
Three-phase version available on request
A particular of the rotating impeller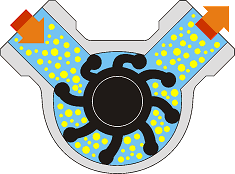 Technical description
It allows hot liquids to be decanted up to 95 °C.
Correlated Products
Similar Products