AISI 304 stainless steel freezer for bottle necks 32 positions
Shipping within 5 working days (from Monday to Friday) from the receipt of payment.
Shipping costs:
Free shipping to Italy
Description
AISI 304 stainless steel freezer for bottle necks 32 positions
Thanks to the use of glycol at a temperature of -25°C/-28°C, the 32-positions bottleneck freezer in AISI 304 stainless steel allows bottle necks to be frozen during the "disgorging" phase of spumante and champagne so as to eliminate all the impurities deposited in the cap and making the final product perfectly clear.
The compressor starts automatically according to the temperature of the hydroglycol mixture detected by the electronic thermoregulator via a probe inserted in the mixture accumulation tank and the forced circulation of the glycol takes place via 2 stirrers present inside the refrigerator unit. The Freon R452A gas and glycol circuit is equipped with electrical and mechanical safety devices.
The 32-positions bottleneck freezer with 70 L internal tank is equipped with 4 castors wheels for easy movement.
Conditions of use and related cooling capacities in WATT:
External air temperature: + 30 °C
Hydroglycolic concentration: 55% by weight
Antifreeze: Propylene Glycol
Hydroglycolic mixture temperature: -25 °C
Power Supply: 400V/3+n+T/50Hz
Rated current draw: 3.5A
Nominal absorbed power: 1,7 Kw Max
Characteristics:
Material: AISI 304 stainless steel with stainless steel cover panels and satin finish
Number of positions: 32
Number of bottles/hour: 150
Compressor: 0.9 kW
Finned pack: 1 of 310x310
Fan: Ø 300 mm
Tank capacity: 70 litres
Dimensions: Ø 850 x 1000(h) mm
Weight: 90Kg
Operating weight: 160 Kg
Compliant with MACHINERY DIRECTIVE 2006/42/CE.
Mechanical equipment:
1 round tank with manually rotating plate in AISI 34 stainless steel insulated in expanded polyurethane. (TO)
1 plate made of polyethylene with conical necks machined directly from solid. (B)
2 stirrers placed on the plate
1 semi-hermetic piston compressor, with R 452A gas compression. (C)
1 dehydrating filter to eliminate any traces of humidity present in the circuit. (D)
1 ventilated condenser to dispose of the calories generated by the compressor. (AND)
1 serpentine evaporator for cooling the refrigerant solution to a temperature of -25°C. (F)
1 pressure switch for high and low pressure circuit control.
1 electric panel according to CE standards with digital thermostat for setting and reading the glycol temperature.
4 wheels for moving.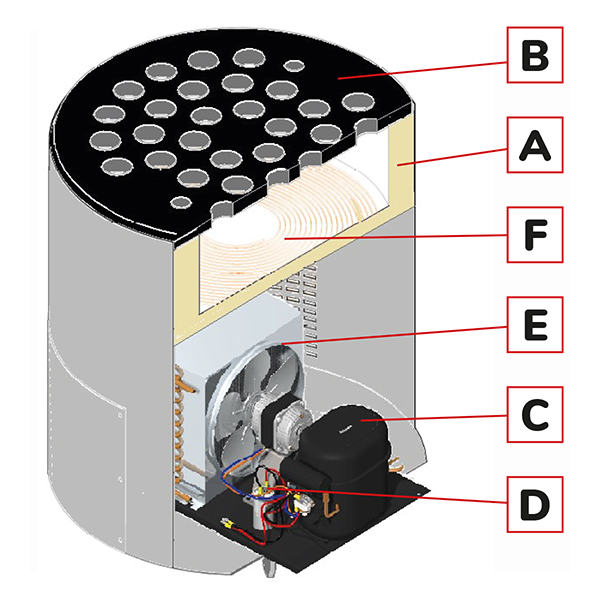 Other products of the same brand